Australian Plants Society South East NSW

Pambula, NSW
This garden has been established on rhyolite soils with large rocky outcrops, home to naturally occurring Dendrobiums and Ficus trees.
There is a healthy stand of the endangered Zieria formosa.more...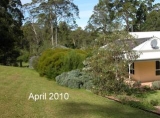 Batemans Bay, NSW
The owners of this garden are converting an established garden to a native garden and adding extra garden beds. The large block of land has a dam acting as a water feature, several discrete garden beds and another small water feature.
The gardens around the house spill over low wooden walls and form a protective circle around it. more...